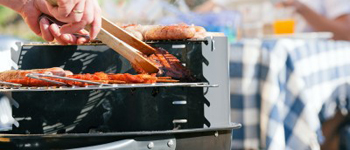 The sun has made a fair attempt to peep out here in Newcastle upon Tyne during the last two weeks. Unfortunately as I write this I can see the rain starting to fall, but I am determined to continue with this blog theme.
I am positive most of you will have been making the most of this glorious weather eating every meal outside in your gardens and more BBQ food than you can stomach. I am no stranger to that "too full but must eat more" feeling.
A recent new arrival to the
AC Silver website
is the inspiration for this blog.
Who doesn't love summer punch?
Now I know what you're thinking, that you have never seen a problem with recycling the cake mixing bowl for serving up punch, but as Mr Campbell always says, sterling silver is capable of making all food and drink taste even better

Punch Bowl & Ladle (W6729)
According to my friends I should invest in an entire kitchen of sterling silver appliances and serving equipment.
These Stuart Devlin champagne flutes are a must have for anyone who:
1.Loves Devlin silver or 2.Collects fine and impressive examples of silversmithing at its best. These flutes would not be out of place at a small intimate celebration or a large and possibly slightly noisy garden shindig.

Stuart Devlin Champagne Flutes (W5638)

Summer parties aren't just about the beverages available however, but also the food on offer. Now if you are prone to cremating your sausages on the BBQ, then may I recommend a silver platter on which to serve food to your guests.

Sterling Silver Meat Platters (W5364)

No one will looking at which burger is less charred when all they can think about is 'What a fabulous platter!'
Here are a few more ideas for a Summer Party (suitable for both indoors and outdoors, because we all know what this British weather can be like.)
For any further information or if you would like to invite us to your garden party, please do not hesitate to contact us online or in store.
<! AddThis Button BEGIN >