When you think about cameo jewellery, typically the first thing that comes to mind is Great-Grandma's shell cameo brooch with the portrait of a lady; however cameos have never been more prestigious and important than now. They could be tagged as vintage bestsellers or a secret to dressing like the 'Royals'; but cameo jewellery is here to stay as an accessory trend in 2013.
On Trend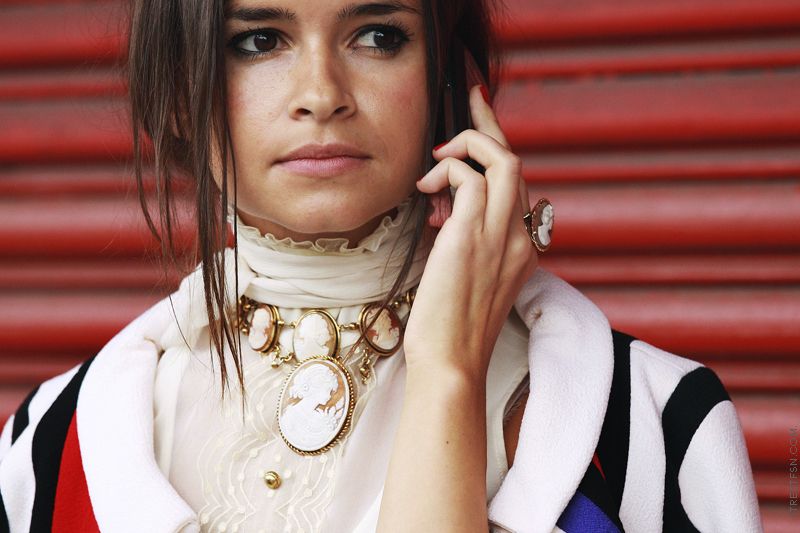 Cameos have been popping up in designer collections all year and seen on the streets as demonstrated by Miroslava Duma, editor at Harper's Bazaar Russia.
Cameo History
Antique or vintage jewellery always creates interest for it is often surrounded by stories. Cameos certainly have a fascinating past. Throughout history, people of noble birth have set the tone for jewellery fashion. It is said that Queen Elizabeth loved to wear cameos and it is noted that Catherine the Great had a very impressive collection of them.
The cameo has survived the whims of changing fashion during the Nineteenth Century in England. Ever since Queen Victoria favoured cameos, the cameo has always been worn either as a subtle expression of class and refinement, or as a more personal statement. Cameos were popular as pins and pendants usually worn on a black velvet ribbon or occasionally pastel satin ribbons.
Did you know?...... Five fascinating facts on Cameos
1) The oldest known cameo was found in Alexandria (Egypt), dates to the 3rd century B.C. and was carved from agate.
2) Traditional cameos were carved from sardonyx or carnelian shell. Now they incorporate materials such as agate, lava, jet, ivory, celluoid, Bakelite, resin, glass, and plastic.

Victorian Cameo Brooch (W6600)

3) Italian craftsmen invented the original cameo carving tool, the bullino, in the early 1800s.

4) Victorian women considered a cameo carved in their personal likeness a prized possession.

Previously Held Item
5) From the Civil War to the World War II era, cameos were the most popular pieces of jewelry owned by the majority of women.
I think it's certainly time to ransack the jewellery boxes of all of our older relatives in the hope of finding a small piece of personal history, and if that proves a fruitless task,

Victorian Cameo Brooch (W6627)
then make sure you have a look at our unique collection of cameo jewellery here at AC Silver.
Whilst I was writing this blog two cameos have flown off the shelf so if you want to update your accessories this season have a look at our website ... quick quick!
Here at AC Silver we are also keen pinterest fans and were amazed to find this extensive and beautiful collection and simply had to share.
If you require any further information please do not hesitate to contact us online or in-store.
Images sourced from: