Dear Emerald Jewellery,
I seriously do not know how to quit you.
Love,
Gemma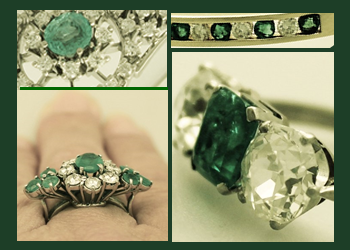 Now here comes the hard part… Where to start?… The beginning maybe?
Well, the obsession began when I was helping the shop staff at AC Silver set up the store ready for a busy day of trade. There I was simply placing the jewellery pieces onto their stands, when all of a sudden I had in my hands something that caught my eye. The bright green made my eyes glaze over and I was staring at this beautiful emerald with such admiration that my addiction to the gemstone began.
Needless to say I was NOT at all happy when a customer came into the shop a few weeks later and purchased this ring, the ring that had triggered my addiction.
Can you imagine my excitement when I realised that the Pantone colour of the year is EMERALD!!
"Lively. Radiant. Lush… A color of elegance and beauty
that enhances our sense of well-being, balance and harmony."
So what does this mean??
Well, Pantone is world renowned authority on colour, and for many years they have been responsible for guiding and inspiring designers by sharing their colour expertise with them. They look at how colour influences your thoughts, emotions and reactions (scary eh?) and then they share this with many professionals (including jewellery designers) to help them utilise colour in an effective way.
So by Pantone releasing the "colour of the year" they are basically telling people in various industries, including fashion, design, advertising etc, that this is the must use colour for the year!
So what does the colour Emerald mean?
Well according to Pantone there are many words associated with this colour (I'm getting too excited writing this) and here are some to whet your appetite:-
Well being
Balance
Harmony
Growth
Renewal
Prosperity
Healing
Unity
Energized
They all sound pretty positive don't they?
So now thanks to Pantone this colour won't only be my favourite in 2013, I will also have to share it with every designer on the planet!
Well thanks a lot Pantone! It's a good job I don't mind sharing.
<! AddThis Button BEGIN >