Like many women co-habiting with a sport mad gentleman, I am finding that there is a rarely a sport-free weekend in our house. Don't get me wrong, I love sport, watching and participating. With football and rugby union fixtures between August and May, Formula 1 races between March and November and horse racing, Wimbledon, athletics and golf to fill the gaps, when does a girl get to catch up on Gossip Girl however? Luckily for me, Formula 1 McLaren driver Jensen Button is easy on the eye.
A common link throughout most sports is the incredible size and style of the trophies. Formula 1 presents four trophies for each of its nineteen races, one to each of the top three drivers and the winning team. Each trophy has been perfectly commissioned for the host country.
Formula 1
Fox Silver Ltd, a British based company, is the most popular designer of Formula 1 trophies, they have designed and made trophies for the Grand Prix every year since 1984. In 2012, they were revealed as the designers for the first US Grand Prix in Texas. Regulations state that all trophies must be created in the traditional form, must not exceeded the height limit of 25.6 inches and weight no more than 5 kgs. The 2012 sterling silver and 24 Carat gold plated creation incorporated the five point star in honour of Texas, with disks of red, white and blue to the base. It was a true tribute to America and motor racing.
The Beautiful Game
2013 commemorates the 150 year anniversary of The FA (The Football Association). "The FA is the not-for-profit, governing body of football in England. It grows participation, promotes diversity and regulates the sport for everyone to enjoy." As a result we have become a nation of football addicts.
One game to unite a country.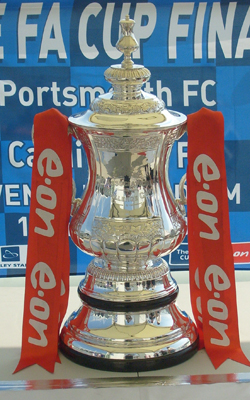 The FA Challenge Cup, in the United Kingdom, is the oldest existing domestic football competition in the world. The original aim was to create a competition that was connected to the FA, and all domestic clubs belonging to the FA were invited to compete. This was established in 1871, with only 15 entries. The original FA Cup trophy was made by Martin, Hall & Co, costing just £20, unfortunately it was stolen 1895. The current trophy is the competition fourth version. The current trophy, created by Toye, Kenning and Spencer, is an exact replica of the 3rd made by Fattorini's of Bradford. And what a fine piece of British craftsmanship is it… don't you agree?
It's great to have a competition in which a British team is guaranteed to win….(doesn't often happen these days). Not mentioning any names..Tim Henman.
Good luck to both Manchester City and Wigan Athletic for this year's FA Cup Final at Wembley on 11th May!
For those of you who have a non-British Bias, you may be more interested in watching the UEFA Champions League Final on 28 May 2013 between Dortmund and Bayern Munich, also being held at Wembley to mark the 150th anniversary of the FA.
At AC Silver our inventory includes a wide range of trophies suitable for a variety of presentation purposes-from golfing tournaments and horse racing to dog shows, we have seen it all.
Traditional versus Alternative
There are many 'traditional' cups and bowls available in different styles....
If you fancy a more unusual presentation piece however…
If you require any further information regarding our trophy and presentation pieces inventory, please do not hesitate to contact us online or in store.
Now where is that remote!
<! AddThis Button BEGIN >