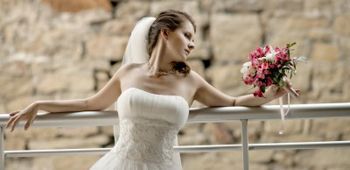 Wedding season is in full swing. It is common knowledge that one of the perks of the big day (other than obviously getting to spend the rest of your life with the one you love) is the presents. The easiest option as a wedding guest is to stick to the designated list supplied by John Lewis. However, in 10 years are the couple really going to have kept the Egyptian cotton sheets, gravy boat or slow cooker you quickly purchased?
The gift that just keeps giving
For a more permanent and memorable gift why not consider a piece of antique or vintage silver? Silver is a great wedding gift idea. The items are unique, usable and made to stand the test if time. Many antique items can easily integrate into a modern home. Articles such as: mustard pots, cream jugs, napkin rings, sauceboats and bon bon dishes are a valuable accessory to any dinner table. Silver items such as these are a great addition to any home and can be passed down to future generations.
Capturing a Moment
At AC Silver we have a wide range of items that would make perfect wedding gifts, and they don't have to break the bank.
If you require any further information please don't hesitate to contact us in store or online.
For something a bit more unusual ……
No?...Ok a girl has to try.
<! AddThis Button BEGIN >